Rigaku Symposium on X-ray Diffraction
The Rigaku Symposium on X-ray Diffraction is an annual event hosted at Yale University that is free to the public. The symposium features interactive workshops with tutorials on X-ray characterization for macromolecular, small molecule and materials projects. We also invite keynote speakers who are leaders in the field of X-ray analysis and scientific research. The event concludes with a poster session, which highlights graduate and postdoctoral projects that use X-ray diffraction and scattering.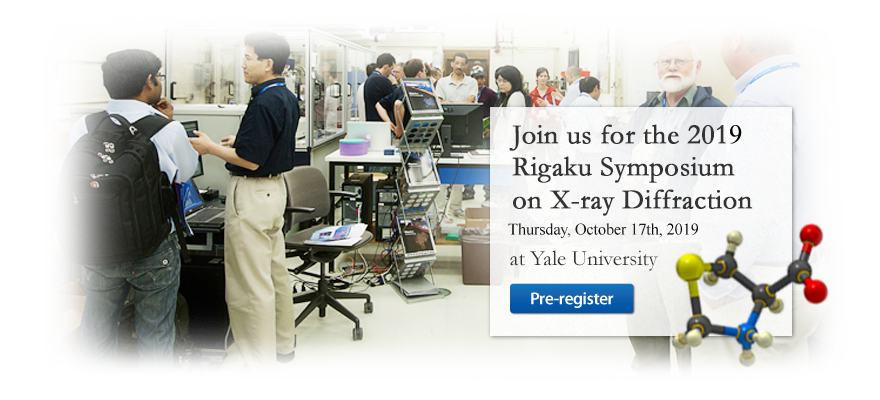 ---
News for 2016
The Yale University Department of Chemistry, in conjunction with Rigaku Americas Corporation, is pleased to announce the 5th Rigaku Symposium on X-ray Diffraction, to take place on Friday, May 20th, 2016, in Sterling Chemistry Laboratory at Yale Campus.
Previous years' events were highly successful, and we look forward to another year of exciting talks and posters.
This event will explore current analytical and technological trends in X-ray diffraction. Experts in the field will present topics ranging from Chemical Crystallography to Materials Analysis, and hands-on workshops will be held on Thursday, May 19th at Yale West Campus.
The confirmed list of outstanding speakers for 2016 will include:
Alan Balch — Department of Chemistry, University of California, Davis
Jim Mayer — Department of Chemistry, Yale University
Kathryn Ferguson — Department of Chemistry, Yale University
Linda Doerrer — Department of Chemistry, Boston University
Liam Sharninghauen — Yale University
Ankit Disa — Yale University
Simon Bates — Triclinic Labs
Michael Robertson — Yale University
Joseph Ferrara — Rigaku Americas Corporation
Check back for list of updated speakers.
In addition to the guest speaker presentations and workshops, we are accepting submissions for poster presentations that focus on X-ray analysis. A prize will be awarded for the most outstanding poster, generously provided by Rigaku Americas Corporation.
Please join us for a day of stimulating talks and networking. This event is free and open to the public, but pre-registration is required. Breakfast, lunch and an evening reception are included during the Symposium.
We hope to see you there!
Brandon Mercado and the 2016 Yale-Rigaku Organizing Committee
Brandon Q. Mercado, Ph.D.
Chemical and Biophysical Instrumentation Center
Yale University brandon.mercado@yale.edu
---
Contact
To contact us by e-mail
Yale chemistry department office: (203) 432-3915

Brandon Q. Mercado
CBIC X-ray Crystallographer
Phone: (203) 432-0145
Twitter: @CBICXray
Twitter